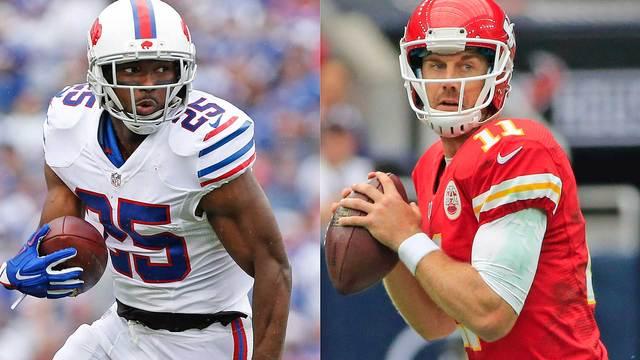 Sunday's 30-22 loss to the Chiefs was a devastating blow to the Bills' playoff hopes, as fans everywhere surely felt the pain of a 15-year playoff drought reach the brink of becoming 16 years. There was a moment where Buffalo dominated Kansas city – they jumped out to a 10-0 lead, early – but once the Chiefs grabbed momentum there was no looking back, as they pounded the Bills' defense for 413 total yards. Rex Ryan was reluctant to throw the challenge flag on a number of controversial plays and his defense was content dropping into coverage rather than pressuring Alex Smith. It all added up to a disappointing loss for Buffalo and they are left with a very high mountain to climb towards the playoffs. Here's some takeaways from Week 12.
1) Rex Ryan is to blame for this loss
Between not throwing the challenge flag on three different occasions where his team likely would have benefited and choosing to revert back to dropping seven or eight guys in coverage rather than pressure Alex Smith, yesterday wasn't a good day for Rex. Now, jumping all the way to 'he should be fired today' is a bit drastic. Everyone has off days – players make mistakes, coaches make mistakes, it happens. Still, this loss falls squarely on the shoulders of Ryan. His first opportunity to challenge came after a Smith-to-Jeremy Maclin, 37-yard pass advanced the Chiefs down to Buffalo's three, late in the first quarter. At the time the Bills were in control – holding a 10-0 lead – instead Kansas City would cut the lead to three with a touchdown run, one play later. That one probably hurt the most because it changed the complexion of the game, entirely. Then you had the final play of the third quarter when Smith took off for an 11-yard run to pick up a first down on what was third-and-11. Smith's elbow clearly hit down short of the first down marker, but Ryan once again did nothing about it. That one fortunately didn't cost the Bills too badly, resulting result in just a field goal for Kansas City, but a challenge likely halts that drive sooner. Finally, on the Bills final drive we saw Chris Hogan make a catch in the middle of the field, get knocked to the turf hard, from behind after taking several steps and the ball squirt out as he hit the ground. This one is as much on Ryan as it is the league, which fails every week to consistently define what 'is' and 'isn't' a catch. Ryan should having challenged considering the position his team was in – down eight late in the fourth – but at least that one is somewhat justifiable because of the NFL's vague rules. Ryan took the brunt of the blame for the challenges today, noting that their usual process for determining whether or not to challenge, failed them and adding that "ultimately it's my responsibility."
As far as the defense goes it's just hard to understand what made Ryan resort back to the strategy of dropping guys into covering, which wasn't working for them earlier this season. When you consider how dominant the front seven looked one week ago against New England, it becomes even harder to grasp. According to linebacker Manny Lawson, the idea was to keep Smith in the pocket with just a four-man rush and limit his options downfield by dropping into coverage. A fair strategy when you consider Smith isn't generally slinging the ball all over the field, however Ryan should of realized at some point during that game that his scheme had stopped being effective and made adjustments. He didn't and he was beaten because of it. Hate to see a game lost because of bad coaching – unfortunately this one was.
2) Sammy Watkins is really, really good
When the Bills were throwing the ball his way yesterday, he had himself a day – six receptions, 158 yards and two touchdowns. What's a mystery is why he didn't even sniff the ball in the second half. Of course Watkins himself just tipped his cap to Kansas City for adjusting into more of a cover two scheme and doubling him in the second half, but we know it's not that simple. Those adjustments certainly helped slow him down, however there are still ways to get your best receiver the ball. That falls on the coaching again. If the Chiefs were able to make defensive changes to better cover Watkins, Ryan and his staff should have been making in-game tweaks to counter that. Nonetheless bashing the coaching was reserved for takeaway No. 1, so back to the point – Sammy Watkins is special. For all the heat he took early this year for demanding the ball more, and of course his Instagram feud, he's responded by putting on a show in several contest. His 168-yard receiving day back in Week Nine was a career-high and now we get this 158-yard performance, which comes in as a career runner up. When the ball is thrown his way it's almost expected that big things are about to happen. The second-year receiver makes plays for Buffalo, plain and simple. And it's more than obvious that when he is the offense's focal point they really get rolling. He has to be featured even more and Ryan knows it too.
3) The injury bug is back
Just four weeks ago we were all talking about how healthy the Bills were getting out of their bye week, how it was the perfect time to be getting guys back and yet, here we are heading into Week 13 and the injuries are piling up once again. No area has been hit worse, of late, than the defensive line. Kyle Williams – who injured his knee back in Week Six against the Bengals – is headed headed to the IR following surgery. Mario Williams injured his foot in New England last week and missed Sunday's game because of it. Now Alex Carrington – who was carted off the field with a torn quad this week – is likely done for the season. Linebacker Nigel Bradham suffered an ankle injury against the Chiefs and may miss Week 13 as well. The defensive front seven is just depleted right now. On offensive rookie, guard John Miller is likely out another week with an ankle sprain and rookie, RB Karlos Williams' status is unknown at this point, with some type of shoulder ailment. It's certainly unfortunate for the Bills, but the old cliché that every team deals with injuries is true. Where Buffalo has struggled this season is with that "next man up" mindset. They've used that saying at times this year when talking about their injured teammates, but they haven't actually done it. Teams that are able to move along after injuries are good team. The Patriots for example are a good team. Maybe their injuries finally caught up with them last night in their loss to Denver, but they still find themselves at 10-1 with guys missing left-and-right. They truly practice what they preach in regards to the next guy coming in and doing his part – the Bills haven't. Simple as that.
Final thoughts:
It of goes without saying but obviously the road to the playoffs got a lot harder with this loss to Kansas City. The Chiefs – winners of five in a row – vaulted themselves into one of the AFC Wild Card spots and with a Pittsburgh loss and Houston win yesterday, the Texans now hold the other. They're almost as hot as Kansas City right now, having won four in a row and ironically enough that's who's next up for the Bills. Week 12 felt like a must win for Buffalo, Week 13 absolutely is. Beating Houston will give the Bills a little leverage in the wild card race or more specifically the tiebreaker over the Texans – should both teams finish with the same record. Still, there are plenty of other teams to worry about including the New York Jets, Pittsburgh Steelers and Oakland Raiders. What's helpful to Buffalo is that the Steelers have one of the toughest remaining schedules, with games against three AFC division leaders in the Indianapolis Colts, Cincinnati Bengals and Denver Broncos coming up. Buffalo also has a very important win over the Jets already this year and will face them again, at home in Week 17. Depending on how things play out that game could decide who goes to the playoffs. They gotta get there first though and right now it's all hands on deck for the Texans.