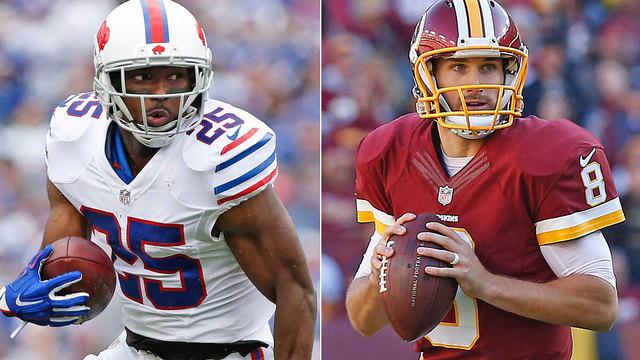 With their playoff chances hanging on by a thread the Bills head to Washington this weekend for a date with the Redskins. Despite being on the brink of postseason elimination Rex Ryan expressed after last Sunday's loss to the Eagles that his team wasn't going to quit, but rather fight their asses off the rest of the way. It's likely far too little, far too late but at least for now they can keep believing until they're mathematically eliminated. With a Redskins team that is still vying for an NFC East title in front of them, Buffalo can keep their hopes alive a little longer with a win, while also playing the role of spoiler. Here's a few things they must do to get that done…
1) The Bills must keep the penalties to a minimum

It sounds like a broken record at this point. Penalties have killed Buffalo too many times this season. They know it, the fans know it, the media knows it and it's a little too late to be proclaiming that it has to stop. Like they did in the previous four games before Week 14, Buffalo needs to keep the penalties under 10. Under five would be even better, and zero would be best, but anyone who has watched this team in 2015 knows that's not happening. Best case scenario is they can keep the little yellow flags against them to a minimum and finish the job they couldn't last week – particularly on offense where penalties killed drive, after drive, after drive in Philadelphia. If the Bills can indeed keep the penalties limited they'll be in good shape to beat a below average Redskins squad. That's a big if though.
2) Buffalo's O-line must be ready for another physical match-up in the trenches
A week removed from getting dismantled by Eagles' defensive end Fletcher Cox, the Bills have another tough test on their hands with a big and physical Redskins' D-line. In his worst performance of the season, guard Richie Incognito spent most of last week whiffing on the fourth year pass rusher, which he owned up to afterward. That likely won't happen again. Incognito and left tackle Cordy Glenn have been the two most reliable blockers for Buffalo this season. Everyone has a bad day. Incognito must simply put his behind him and move on.
That said Washington's defensive line posses a threat for everyone across the Bills offensive front given their size and aggressiveness. Ryan mentioned it as one of the Redskins' biggest strengths earlier this week. Washington will likely look to pressure Tyrod Tyalor and count on their coverage downfield to makes plays, so it's crucial that Taylor be ready to take off and run if he sees an escape route with green in front of him. Also, it's important to note that while the Redskins are solid upfront on defense, they're still surrendering an unimpressive 121.3 rushing yards per game. That plays right into the strength of the Bills' offense with LeSean McCoy and a mobile Tyrod Taylor. If the line does it's job and holds tough for both Taylor and the running backs, opportunities are there for Buffalo to make some big plays against this defense.
3) The Bills defense must be ready for the speed and playmaking ability of DeSean Jackson
Buffalo has former Eagle LeSean McCoy, while Washington has one of their own in DeSean Jackson. If there is anyone on the Bills roster that knows what kind of playmaker Jackson is it's McCoy, who spent five years in Philadelphia with the speedy receiver from 2009-2013.
Jackson has only played in seven games this season due to nagging injuries of different varieties, but when he plays the big play potential of Washington's offense increases exponentially. Prior to Week 14 Jackson had scored in three straight contests, making 13 receptions over that span as well. At age 29 he's an effective target for QB Kirk Cousins and his quickness can really open up the offense. Last week we watched Philadelphia, wideout Nelson Agholor slip behind safety Corey Graham and go for a touchdown after Sam Bradford stepped up and delivered a 53-yard pass his way. It was a blown coverage by Graham who allowed Agholor to run right past him on a post rout because he was too busy watching the out rout underneath. That kind of thing can't happen against Jackson.
With Stephon Gilmore done for the season with that shoulder injury he sustained in Week 13, it's up to Ronald Darby to keep Jackson's production to a minimum – something he's proven he can do against some of the NFL's best this season. However Darby can't do it alone. There will be plays where he needs some safety help over the top so Graham and Bacarri Rambo have to be alert. The secondary can't allow Jackson to beat them deep. If the secondary can successfully take him away that limits Washington's passing attack immensely and the next challenge then becomes stopping TE Jordan Reed, particularly in the red zone.